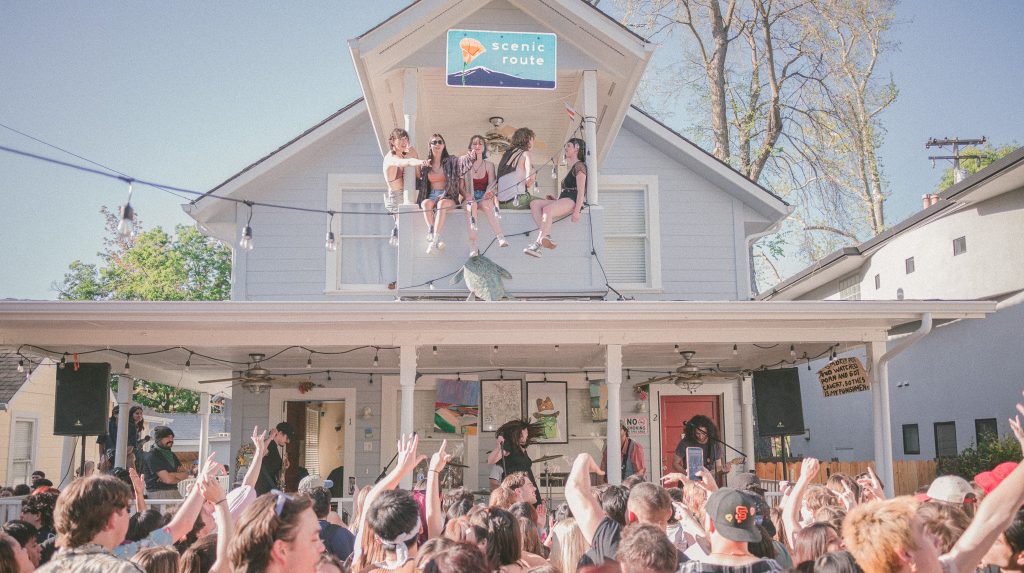 Rainbow City Park
california indie pop
VIDEOS
MUSIC
LINKS
NEWS
New shows added! See UPCOMING SHOWS below.
New music coming in Fall 2023. We are currently mastering "Convince You" and "Valentine's Day 1999".
Working on a Paramore cover set for Halloween 2023.
UPCOMING SHOWS
10/13/2023 – Fresno, Shallow End. Citrus, Roman Around, Rainbow City Park, Unlikely, and Shop Dog. All Ages. 7 PM.
10/14/2023 – SLO, Bang the Drum. Cate Armstrong, Ladders, Rainbow City Park, and Plywood Love. All Ages. 7 PM.
10/20/2023 – San Francisco, Neck of the Woods. Purehex, Room 308, Rainbow City Park. Mom Cars. All Ages. 7 PM. (Tickets)
10/21/2023 – Sacramento, Starlet Room. Rainbow City Park. Mom Cars, Purehex, Room 308. All Ages. 7 PM. (Tickets)
10/31/2023 – Sacramento, Old Ironsides. Special cover show. Secret headliner covering The Ramones. Rainbow City Park as Paramore. Addalemon as Third Eye Blind. The Baddest Beams as The Talking Heads. House Plants as The Flaming Lips. 21+. 7 PM. *** Costume Contest: bands will pick their favorite costumes during their sets and give out free merch.
11/3/2023 – Santa Cruz, House Show (dm for addy). Free The Youth presents Hayday, Badvirl, and Rainbow City Park. All Ages. 7 PM.
11/4/2023 – Davis, House Show (dm for addy). Tri-Coops presents Hayday, Badvirl, and Rainbow City Park. All Ages. 7 PM.
MEMORABLE SHOWS
6/23/2023 – Sacramento, Concerts in the Park. Wild Child, Boot Juice, Rainbow City Park, Band of Coyotes, Hellagoodcompany.
4/15/2023 – Turtle House, Davis. Halibut Head, Cowboys After Dark, Addalemon, Velvet Starlings, Bomba Fried Rice, The Moondrops, Rainbow City Park, and Landline.
9/24/2022 – Sacramento, Farm to Fork Festival. Japanese Breakfast, The National Parks, Rainbow City Park, Dear Darling
BIO
Rainbow City Park is an indie-alt rock-dream pop band from Northern California. The band draws inspiration from 90's alt-rock acts such as Third Eye Blind and The Smashing Pumpkins, infusing their music with a modern twist akin to the sounds of Boy Genius and Snail Mail. Band members reside in both San Francisco and the Central Valley, converging in Sacramento for rehearsals.
Sonically, Rainbow City Park takes you on a journey through various soundscapes, from dance-inducing rhythmic sections to heavy breakdowns, to ethereal interludes where shimmering guitars blend seamlessly with the vocals. The lyrical content often delves into existential and occasionally melancholic themes, offering a stark contrast to the buoyant musical atmosphere. This juxtaposition finds its resonance with artists they admire, such as Phoebe Bridgers, Frightened Rabbit, and Pinegrove.
Fronting the band is the charismatic Dani Judith, a multi-talented artist who also wears the hats of an audio engineer and music teacher when she's not playing with Rainbow City Park. The trio of guitarists, including Dani herself, Nick Nassab, and Chris O'Keefe, weaves intricate melodies that intertwine with Dani's vocals. Their signature indie-rock tone is heavily influenced by their love for Fender guitars and amps. Dani plays an American Telecaster and Epiphone Les Paul. Nick plays an American Stratocaster and Greco SG, and Chris mostly plays his American Telecasters and Jazzmaster, and occasionally the 335 semi-hollow body style D'Angelico. Clean amps and an array of pedals help to shape their tone, often sporting more than 25 pedals on stage during a performance.
The rhythm section provides the backbone of the band, with Dwight Struthers on bass and Ryan Williams on drums. Both members honed their craft through rigorous schooling, with Ryan even earning a bachelor's degree in classical guitar.
The groundwork for the band started in 2021, when Chris O'Keefe, having recently completed his schooling and pondering life's priorities in the wake of the COVID-19 pandemic, decided to put together an indie project. He spent hours on Craigslist, social media, and musician meetup platforms to find the right fit for the group. Chris first found Dwight, Ryan, and vocalist Maria Wong, and together they began auditioning other musicians to complete the project. Nick and Dani to join the group in the Winter of 2022.
In February of 2022, the 6-piece band went in to record at Earth Tone Studios with Sacramento engineer, Patrick Hills. After only being a full band for about a month, they recorded three singles, "Run", "Six Feet Over", and "Be", where Maria was featured as the lead vocalist on the tracks. Shortly after, the band started playing Northern California shows, and in September 2022, Rainbow City Park played the Farm to Fork Festival with Japanese Breakfast, The National Parks, and Dear Darling. After gigging for about a year, Maria stepped away from the project.
On May 18, 2023, they released a double single, "Broken Record / Dad Jeans" that featured Dani as the lead vocalist. They recorded the tracks at Rosa Mortem and Earth Tone Studios and had them mixed by Mike Vernon Davis (best known for his work with Pool Kids and Great Grandpa). These tracks showcased the band's growth since its inception, with a more polished sound.
During the summer of 2023, they worked on recording their next set of singles "Valentine's Day 1999" and "Convince You", expected to be released in the Fall/Winter of 2023. The band also has a series of shows planned for Northern and Central California in the Fall of 2023. They are excited to go into the studio in the Winter to record their first EP and to support its release with a Spring '24 tour.
"… silky and inviting. I'm looking forward to seeing where this band goes next both sonically and in person." – Nick Brunner, CapRadio
CONTACT
Booking: rainbowcitypark@gmail.com